Movement and Emotions




Commissioned project funded by Artcenter Nabi(SK Group), 2021
HRI research





Based on the interest I always have had, this project was to experiment with the relationship between movement and emotions.



Emotion classication method by Russell's circumplex model of aect Posner, J., Russell, J. A., and Peterson, B. S. "The circumplex model of aect: An integrative approach to aective neuroscience, cognitive development, and psychopathology." Development and Psychopathology 17.3 (2005): 715-734. Print.


The image above is a basic calssification method proposed by Russell-circumplex model. Based on the model, I had proposed a framework(the image below) to apply the model to non-humanoid robots, which has only two means for expression. The speed and pattern of the movement.
Applied model of Russell's circumplex model to explain the relationship between movements, shapes and emotions. Keunwook Kim, Jaeyeon Park, and Taeyun Li. 2021. Post-plant: A Series of Non-humanoid Robots with Embedded Physical Non-verbal Interaction: The Development of Non-Verbal Human-Robot Interaction Framework and Input/Output Integrated Motor Interface. Extended Abstracts of the 2021 CHI Conference on Human Factors in Computing Systems. Association for Computing Machinery, New York, NY, USA, Article 200, 1–3. DOI:https://doi.org/10.1145/3411763.3451560


For testing the framework, to figure out the corelation between movement and emotions, I designed a movement module that has only one degree of freedom(DOF). What could be revealed if we use only one movement - rotation - to express various kinds of emotions? I made two hypothesis based on the framework.






1. The faster the movement is, the more active it will be perceived. The slower the movement is, the more sluggish it will be perceived.
2. The more irregular the movement is, the more negative it will be perceived, and the more regular and unidirectional, the more positive it will be perceived.




Module design for the experiemnt





Based on the framework, the module should act like below.



After making several iterations, I made a spectrum of movements that has a logic in it based on the framework.






Participants were asked to move the module which showed 12 different movemnts on the spot they think it should be. Then, they marked a specific coordinate and explained why they put it there.



When the participants where thinking about the movement and talking, I recorded and typed what they say in real time, also changing the movement with using Seral communication.



After putting the data into a simple exel chart,




I could make a comparison chart showing the difference between the origin coordinates and the average coordinates the participants put with each movements.



Conclusion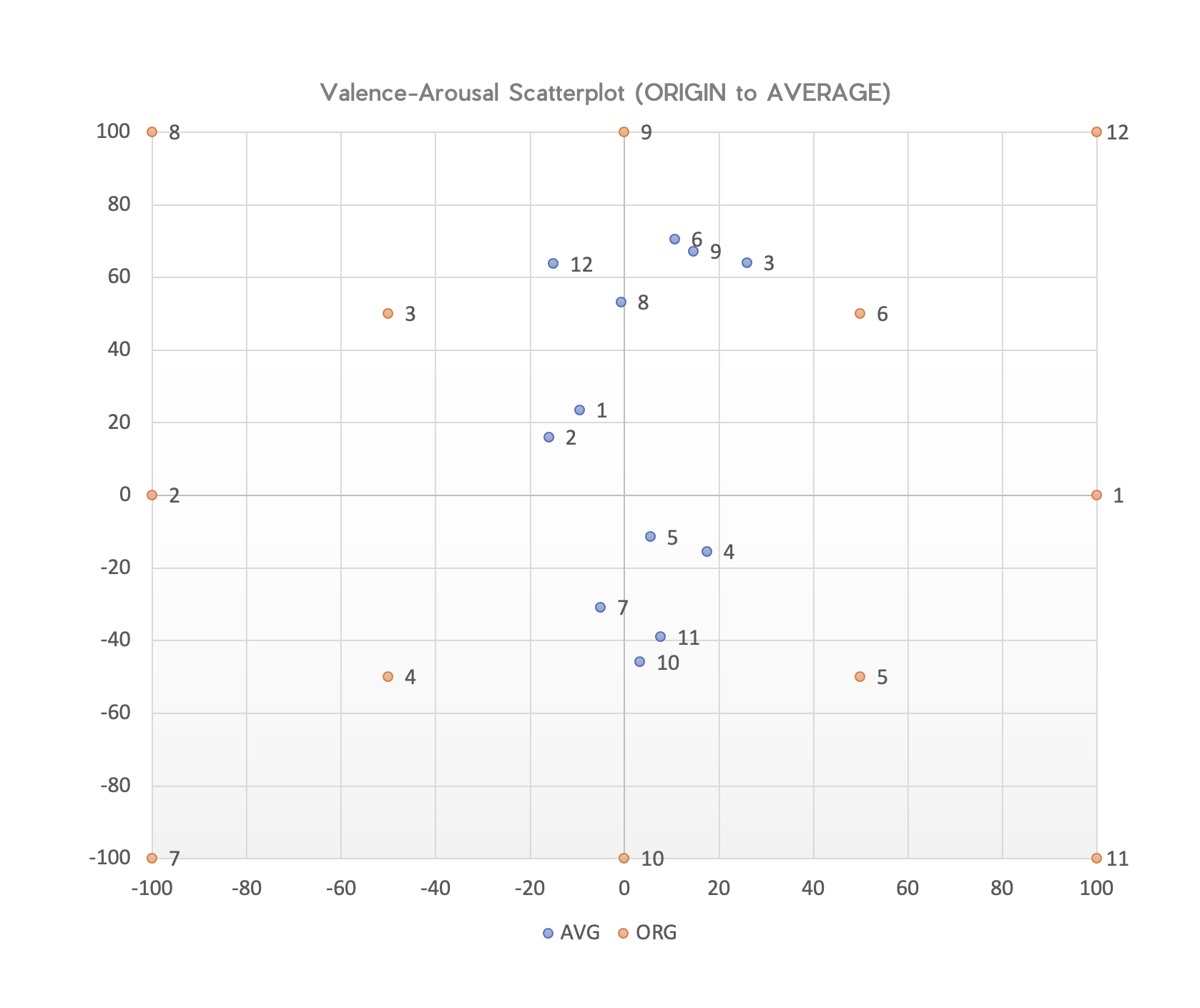 As you can see, the corelation between 'regularity' and 'valence' was not clear at all, while that of 'speed' and 'arousal' was clearer. Therefore, in conclusion,



1. The faster the movement is, the more active it will be perceived. The slower the movement is, the more sluggish it will be perceived. -> truned out to be TRUE
2. The more irregular the movement is, the more negative it will be perceived, and the more regular and unidirectional, the more positive it will be perceived. -> turned out to be FALSE



Although the half part of the hypothesis was false, I could derive meaningful insights from the process of the experiment.



Insights



1. Positive and negative values vary according to individual standards.
1-1. Judgments are based on experience, storytelling
1-2. 'Feeling' is personal and relative
1-3. 'Patterns' are also percieved in a personal, relative way

2. Arousal tends to be judged by the speed

3. It is easy to feel personification or emotion even in very simple motions.

4. Sound is a very important factor



5. Responsiveness and unpredictability are important factors.



6. Context and order are important factors.



1. Positive and negative values vary according to individual standards.
1-1. Judgments are based on experience, storytelling
Motion 8
P1. (-3,90) It's like a machine with bad coding in the old days. When it crashed, something got stuck in the rack.
P2. (30,50) Because it's so happy It doesn't know what to do. It feels like 'WHAAA~' even feels like it's like passed an exam or something.
P3. (20, 30) Drill sound. seems to be working I think it's a good thing. working is good. you need to make money.
P5. (-80,70) … That seems like a strong negation, not a positive one. Because It shakes its head quickly. People shake their heads quickly when they want to say 'no'...


1-2. 'Feeling' is relative and personal
Motion 11
P5. (0,-65) A while ago, I thought that turning in a counterclockwise direction seems to be negative, but it doesn't look that negative because the speed is slowing down.
P6. (80,-50) I felt at ease. It seems like a positive move. I think I put it as a negative move as it was turning quickly in one direction earlier, but it seems natural to turn slowly in one direction.
P7. (-25,-45) It keeps turning in the same direction. something looks boring A little bit like a person turning in the same direction like when a computer is loading. looks boring passive. no willingness.
P3. (-90,-60) stubborn. turning slowly in one direction. unmotivated and stubborn


1-3. 'Patterns' are also percieved in a personal, relative way
Motion 1
P5. (-60,40) It doesn't stop and spins pretty fast
P8. (30,10) Since the frequency of movement is constant, it doesn't feel negative, does it?

Influence by culture/experience/custom
P1. (Positive)It feels like it is constantly pushing
P4. This feeling of movement is not without reason. There is no such movement without a reason to have to unwind it after winding it this much.
P5. It seems that I have been taught that clockwise is positive and counterclockwise is negative.
P6. Turning in only one direction feels negative. Looks like it lost its mind. feeling lost?
It feels like it goes back to the same place when it spins once and then comes back, but It feels like it'll spin at this speed for the rest of its life.




2. The level of Arousal tends to be judged by speed
P2. Because the movement rotates at a high speed, it is about 10 more active than the previous one.
P3. It's a bit fast. I said it was active because it was fast.
P5. Of course, it seems to be active because it rotates fast.
P7. It is moving quickly in one direction, so I placed it on 'active' area based on the speed.


3. It is easy to feel personification or emotion even in very simple motions.
P1. It's like he's whining. It's positive, but it seems like he's talking about it.
P2. It feels like hesitating, like she doesn't know what to do. or maybe embarrassed.
P3. An image of an office worker coming back home, like saying "Daddy is here" Holding hamburgers in both hands and giving it to the children. strong father. Positive. Came broken by the manager.
P7. Searching around as if looking around for something, it felt as if a living creature was searching for something.
P5. It feels like It's dancing with excitement
P6. (Laughs) It's like dancing. The sound is like a beat. It's like a festival.
P6. It feels like something's wrong. It's like in a maniac episode. It feels a bit terrifying.
P7. (As soon as the P7 saw it) It's cute. (Laughs)
P8. Oh boy, it feels so cute.


4. Sound is an important factor
P3. I was surprised about the effects of the sound than the movement itself. There can't be no sound as It's a servo motor and there are gears in it
P8. I hate to hear the sound if it moves too fast. No matter how it moves, there is something persistency in that
P9. The sound had more of an effect than I expected. moving speed. changing interval. If you move fast, you go to the active side. I thought that the ying sound when moving fast was similar to the screaming sound. Other sounds are softer, so they are close to positive side.


5. 'Responsiveness' and 'unpredictability' are important factors
P6. If this turns out to be the answer I expected. I might think that it's just an algorithm answering.
P7. When it makes a mistake. Rather than a perfect person-like a celebrity... You feel a little more human than a person who lacks.
P9. To react differently depending on the situation. It feels like it's a living thing because it reacts to the situation


6.'Context' is an important factor
P2. It rotates in the opposite direction from what it used to. The feeling of being pushed in the winding direction of the propeller.
P3. Isn't it same with the movement 6?
P5. I gave him a generous score because of those noisy guys I saw before.
P7. The interval? is that it? has got longer when it rotates in one cycle.
P8. I realized this while watching this. If I look at the record later, I must hav said two opposite things, right?



Future work